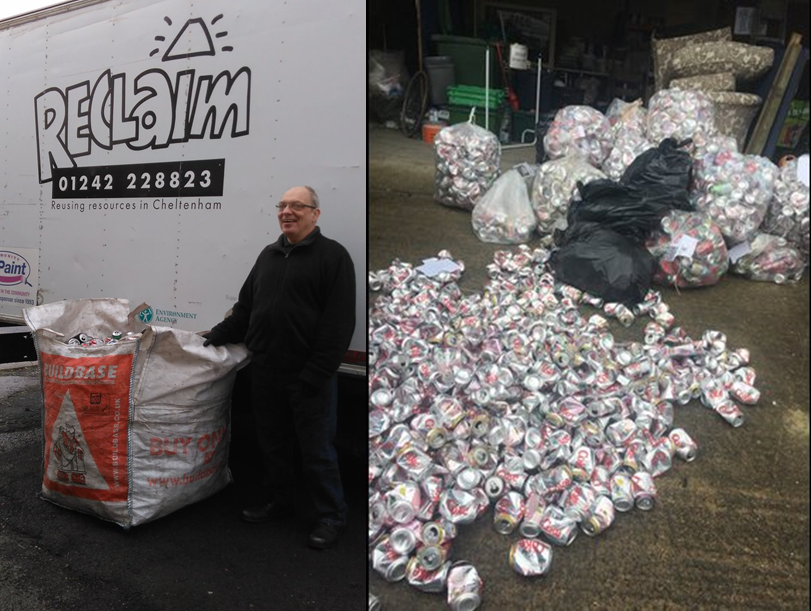 Iron, copper and aluminium are all 100% recyclable.  Volunteers from Vision 21's Reclaim project have constructed the Cable Boxes and our aims are to:
•    To make it easier for members of the public to recycle metals they may just throw out with normal refuse
•    Conserve energy and reduce CO2 emissions by re-using natural resources.
•    Reduce the amount of material sent to landfill.
If you have any unwanted cables, keys, wires and flexes please drop them into:
Reclaim
Unit 25b Lansdown Industrial Estate
Cheltenham
GL51 8PL
01242 228823
Open Monday – Saturday 9.30am – 4.30pm
Vision 21's CanDo project concerns metal recycling, chiefly aluminium, copper and steel, all of which have to be dug out of the ground and smelted at great expense in terms of energy use and of damage to the environment via pollution and quarrying.
Every tonne of aluminium recycled saves 4 tonnes of bauxite (the ore from which aluminium is derived) 9 tonnes of CO2 emissions, 97% of the greenhouse gas emissions. Every tonne of steel packaging recycled saves 1½ tonnes of iron ore and 40% of the water required in production and 75% of the energy needed to make steel from virgin material.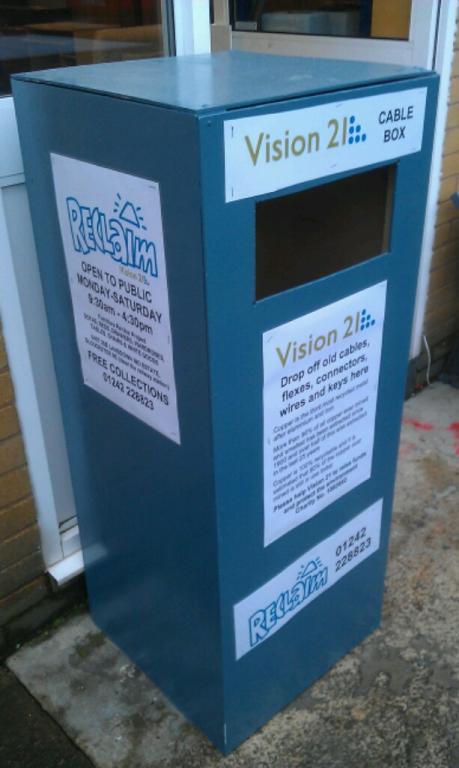 Cable and Key Collection Boxes
Vision 21 has cable boxes available for organisations to place in their reception areas. Boxes are usually available for about one month at a time and are delivered and collected free of charge. They come in two sizes, 0.5m cube or 1.2 x 0.5m cuboid.
The boxes serve several purposes:
• Help companies to meet their zero waste or ISO14001 targets by providing a recycling route for unwanted cables, phone chargers and keys etc
• Can be used as a means to remind employees of the importance of green issues
• Help a local charity raise vital funds
• Prevents natural resources from potentially being lost to landfill.
Every Can Counts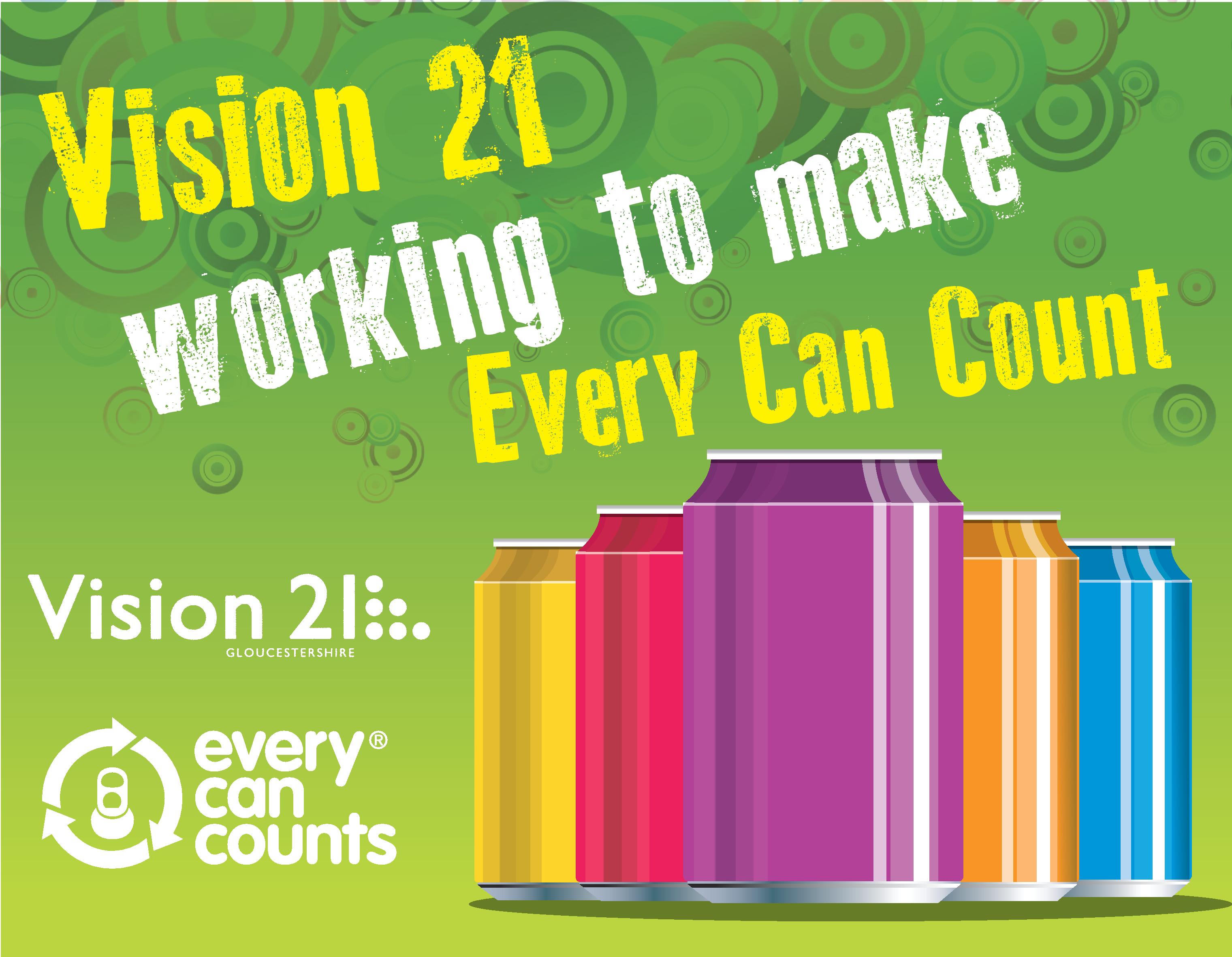 Vision 21 has teamed up with Every Can Counts, an organisation that helps to promote recycling within the workplace.
Cheltenham based Businesses wishing to promote recycling in the workplace can contact Vision 21 on  01242 224321 for more information.
The UK produces over 9 billion drinks cans every year. Apart from being unsightly and a complete waste of a resource, discarded cans are a nuisance as they can cause accidents and attract vermin. By tidying them away, Vision 21 will ensure they are recycled, although we would prefer people to take their litter home to recycle.
Recycling Metals
Copper, by volume, is the third most recycled metal after iron and aluminium. More than 96% of all copper ever mined and smelted has been extracted since 1900, and over half of this was extracted in just the last 25 years. Fortunately, much of this copper is recycled and it is estimated that 80% of the copper ever mined is still in use today.
The process of recycling copper follows roughly the same steps as is used to extract it, but requires fewer steps. High purity scrap copper is melted in a furnace and then made into bars. Lower purity scrap is refined by electroplating in a bath of sulphuric acid.
Recycling aluminium involves melting the scrap, a process that requires only 5% of the energy used to produce aluminium from ore. However, up to 15% of the input material is lost as dross, but depending upon which process is used, this amount of dross can be significantly cut down to as little as 1%.
80% of drinks cans are made of aluminium and each one recycled could be remade into a new product or another can. In a single year, one can could be recycled up to eight times.