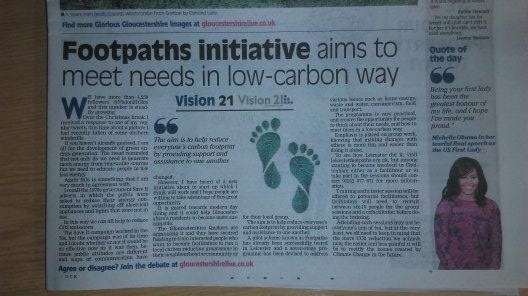 We have over 1250 followers @Vision21Glos and this number is steadily growing. Over the Christmas break I received a response to one of my regular tweets, this time about a picture I had recently taken of some on-shore windmills. If you haven't already guessed, I am all for the development of green energy generation, but the tweet reminded that not only do we need to generate more energy from renewable sources, but we need to educate people to use less energy. Again this is something that I am very much in agreement with.
I recall the 1970s government "Save-It" adverts in which the public were asked to reduce their energy consumption by switching off electrical appliances and lights that were not in use. In this way we can all help to reduce CO2 emissions. The Save-It campaign worked in the 70s, but the campaign was of its time and I doubt whether or not it would be as effective now as it was then, because public attitudes are different and ways of communication have changed.
However, I have heard of a new initiative about to start up which I think will work and I hope people are willing to take advantage of this great opportunity. It is geared towards modern day living and it could help Gloucestershire's residents to become more sustainable. The Gloucestershire Quakers are organising it and they have secured funding to train interested people who want to become facilitators to run a local carbon reduction programme in their neighbourhood or community or for their local group.
The aim is to help reduce everyone's carbon footprint by providing support and assistance to one another. A pilot scheme known as "Footpaths" has already been successfully tested in Leicester and a 7 stage programme has been devised to address various issues such as home energy, waste and water, consumerism, food and transport.
The programme is very practical, and creates the opportunity for people to think about their needs, and how to meet them in a low-carbon way. Emphasis is placed on group work, knowing that making changes with others is more fun and easier than doing it alone.
To see how Leicester did it, visit www.leicesterfootpaths.org.uk , but anyone wanting to become involved in Cheltenham either as a facilitator or to take part in the sessions should contact 01242 577671 for more information.
Training and a taster session will be offered to potential facilitators, but facilitators will need to recruit between 6-10 people for the group sessions and a co-facilitator, before doing the training.
Attending such sessions may not be everyone's cup of tea, but at the very least, we all need to keep in mind that the more CO2 reduction we achieve now, the easier and less painful it will be to rectify the issues created by Climate Change in the future.